Heritage Open Days 8th & 9th September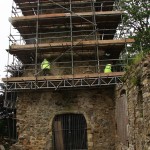 The church and churchyard was opened to the public on Saturday 8th September for Heritage Open Days. We had around 180 visitors during the day and there were guided tours of the church and churchyard. The tower was also open or the day and visitors had amazing views over to Seven Sisters. We were lucky with the weather – the sun shone all day.
Visitors were able to see the conservation work in progress. Most of the re-pointing is now completed and we expect the scaffolding to come down by the end of September with the new paths established in October.
On Sunday 9th September the Reverend Chris Key led a church service in the ruins, which was attended by over 150 people. In the 19th and early 20th centuries such open air services were very popular and it was fantastic to be able to re-establish this tradition.
We would like to thank all the volunteers who helped on the day, and Friary Gardeners for opening up their facilities.
18 July 2012