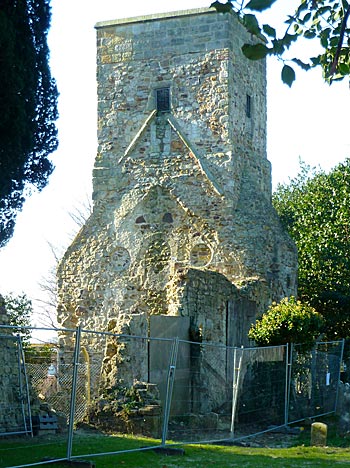 The ruin consists of the standing remains of a Norman or even possibly Saxon church, likely to be contemporary with the Norman Conquest and the building of nearby Hastings Castle by William the Conqueror. The surviving structures include the tower, north nave and chancel walls and east chancel wall.
The earliest part of the church is a round headed window in the north wall of the nave, typical of 11th century style. The original Norman west front can also be seen on what is now the east side of the tower. Roughly worked Caen stone and unusual double splayed windows also date from the Conquest period.
The tower itself is late 12th century and contains the remains of a staircase, belfry openings and a 13th century font with eight attached shafts and a scalloped octagonal base. The north wall of the chancel also dates from the 13th century and includes two lancet windows with an elaborate tomb recess beneath. The east wall and window are 14th century. The south side of the chancel, nave and porch can be traced as wall footings and are all that are left of post medieval additions.
The western edge of the church sits on a steep bank above an archway from the late16th century manor house of Ore Place. This building replaced an early medieval house. A sandstone wall runs along the north side of the churchyard marking the boundary between church land and Ore Place farm buildings.
In the early 19th century additions were made to the south side of the church to cater for an influx of fashionable worshippers drawn by its picturesque setting. However, these were poorly built and resulted in structural problems and in 1869 the church was abandoned and a new one built half a mile to the north. The south aisle, south nave, south chancel walls and roof were taken down to create a romantic ruin.
In the early 20th century the ruins were used for outdoor church services, a pulpit was built and some restoration carried out.
The downloadable report by David Martin is available here: An Archaeological Interpretative Survey of Old St Helen's Church